Summary rating from user's marks. You can set own marks for this article - just click on stars above and press "Accept".
Accept
3D Systems ChefJet Pro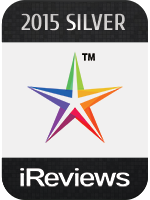 "With the promising features coming along with this model, as well as the same quality we have come to expect from 3D Systems products, we are proud to include this printer in our list of iReviews 2015 best 3D food printers."
---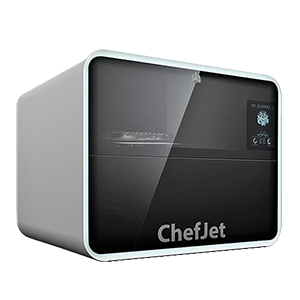 Gone are the days when 3D printing was limited to offices, garages or workshops. The latest innovations and technologies in the 3D printing world are gradually incorporating new applications into the field. Besides other things, today's 3D printers are preparing edible foods as well. A number of 3D food printers are already available on the market. While these food printers hope to print everything that can be eaten, there is a company that has developed a new product that is making a real difference – the 3D Systems ChefJet Pro.
3D Systems hopes to sweeten culinary traditions and other food-related experiences with their ChefJet Pro. The professionally certified 3D food printer will help culinary artists with creating both tasty and visually appealing food decorations. The printer supports various types of edibles including chocolate, sugar and candy. The unique freedom of using edible materials in 3D printing will allow chefs to create unlimited food designs that were not possible before. The ChefJet Pro can help with creating interlocking candies, architecturally designed cakes, stunning sugar sculptures, multi-color cocktail decorations and much more. You won't need extra training to operate this machine, as their intuitive software will guide you through the process.
The journey of this printer started in an interesting way. When Liz Von Hasseln and her husband Kyle forgot to bake their friend's birthday cake, they tweaked their 3D Systems printer to print sugar layers. After that event, they established a company named Sugar Lab, which was later purchased by 3D systems. The couple now works as the Creative Directors of Food Products for the company. By enhancing the original sugar-oriented techniques, the ChefJet Pro is now capable of making simple things like cake toppers, as well as complicated creations like entire wedding cakes.
Though sugar was used as the starting point for the food printer, there are potentials for a variety of edible substrates. 3D Systems is currently experimenting with other ingredients like spices, starches, proteins, etc. Their ultimate goal is to make the device usable in advanced fields like personalized nutrition and individual pharmaceuticals. ChefJet Pro can produce gorgeous and geometric creations which are hard to separate from expensive china. The printer comes with a digital cookbook which organizes food types into different categories like cake, candy, sugar cubes, etc.
3D Systems wishes to help users create beautiful, personalized food items without requiring any knowledge of 3D digital modeling. As a result, the ChefJet Pro is designed to be an intuitive and user friendly device. At this moment, it is being developed for professional use like mixology, gastronomy, mass food production, etc. It will take some time before this innovative food printer becomes available to the general public. However, the company aims at making the device available for both professional and personal use as soon as possible.
With dimensions of 254x355x457mm, the ChefJet Pro is almost twice the size of a regular microwave, making it a perfect companion for professional restaurateurs, cake masters or quality bakers. Being showcased in the 2014 CES (Consumer Electronics Show) in Las Vegas, the ChefJet Pro quickly became one of the most talked about devices in that event. While the technology used in this model is the same as other models made by this company, food-safe components were used where necessary. There is a LCD touchscreen on the right side of the printer. The screen provides detailed information about the current printing job, height and volume of the object, remaining time, remaining print materials, etc. The screen can also be used to perform some basic operations and adjust various settings.
The prints are created as layers of edible materials. The complete object is gradually created by putting one layer over another. The ChefJet Pro comes with four print heads, which means you will be able to prepare multi-color food offerings as well. As the thickness of the object can be decreased to 1-2mm on average, creating complex structures with the ChefJet won't be a problem at all. The device will be accompanied by a digital cookbook, a detailed user guide and a software suite that is suitable for anyone. Nonetheless, don't expect to have your afternoon snack delivered by this food printer just yet. As the device uses completely new materials, it takes a considerable amount of time to finish the printing job. Currently, the device can print one vertical inch per hour. Therefore, preparing complexly designed foods will take more than a few hours to finish.
There is a dedicated online community for 3D Systems users, which is Cubify. Along with models prepared by popular brands, Cubify also lets the users upload their own models. Besides foods, there are plenty of designs for decoration items, fashion, toys, jewelry and watches. If you like a design there, you can send the design directly to the ChefJet Pro and get it printed.
3D Systems is a renowned name from 3D printing related design to manufacturing solutions. Its product range includes 3D printers, printing materials, customized 3D printer components, 3D designs and much more. With its Stereolithography (SLA) printer, 3D Systems played a large role in making 3D printing popular. It is also considered a pioneer in Color-Jet and Multi-Jet Printing, as well as Selective Laser Sintering technologies. With the promising features coming along with this model, as well as the same quality we have come to expect from 3D Systems products, we are proud to include this printer in our list of iReviews 2015 best 3D food printers.
Related YouTube videos: